With over 35 years breeding, training and showing the beautiful Arabian Horse.
Ultimate Eden BSA
Owned by Kari Henderson, Rolleena Smoth, Nick and Dixie Barnes
Affirmed Believer
Honored to catch lead this stunning colt for Travis Hansen. He is owned by Kari, Rolleena, Nick and Dixie.
2014 Arabian Breeders World Cup Silver Champion Futurity Yearling Colt
2005 CAHC Futurity Champion Yearling Colt
2005 CAHC Reserve Champion Futurity Stallion 3 and under
2007 Region 8 Champion Gelding
Undefeated Western Pleasure Open JR horse
2011 Scottsdale Top Ten open and AOTH Gelding (Placing 3rd)
2012 Deseret A and B Arabian Horse Show Champion Gelding Open and AOTH
Sonkiss
Final Countdown
Son Kissed was many time Scottsdale Top 10 1/2 Arabian English Pleasure Horse. Son Kissed was the only 1/2 Arabian to be sold at the Karho Sale in Scottsdale and was one of the highest selling horses. Son Kissed later sold and was National Champion Equitation Horse
Razzamatazz CF ++/
Razzamatazz was Reserve National Champion (With Chris Bickford) and one of the most money winning NSH living while showing. Many Championships in Driving and English Pleasure.
Sonic Boom
Final Countdown was two time Top Ten Scottsdale Half Arabian Yearling Gelding Open and AOTR
Wisdom JN
Wisdom is an American Saddlebred stallion that is nominated NSH sire. Wisdom has produced many National and Regional Championships. He is noted by his 1/2 Arabian son "Whiz Kid" who was Reserve US National Champion and 1/2 Arabian Horse of the year in 1996.
Stormin Norman
Storman Norman has an impeccable show record as a young gelding, he has won many championships in halter and was Colorado Futurity Grand Champion Futurity Gelding in 1994. He then has many Western Pleasure JR wins to his name. He was US National Top Twenty Western Pleasure JR Horse with Paul Scott riding in 1996
Whiz Kid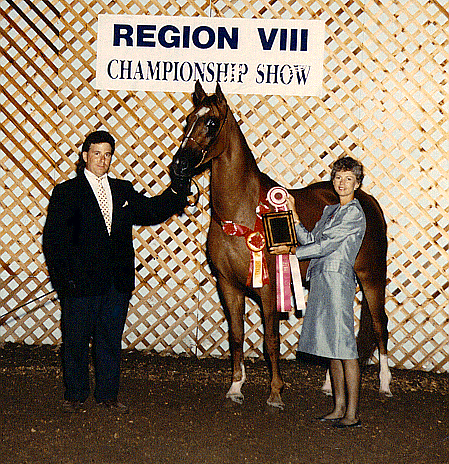 Half Arabian horse of the year. US National Reserve Champion. Regional Champion.
Prettimotion
Champion English Pleasure, and Halter Champion
Alota Bask
Final Countdown
Colorado Futurity Champion Halter Stallion, Jr Champion Colt, Champion Stallion
Worthy Son Day
2008 Scottsdale Top Ten Yearling 1/2 Colt
2008 Scottsdale Top Ten Yearling 1/2 Colt AOTH
Miss Riley's Asset
CASHA Futurity Auction Champion
Sonic Boom
2004 Region 6 Champion Yearling Colt
2004 Region 8 Reserve Champion Yearling Colt
2007 CAHC Spring Show Champion Gelding
2007 Region 8 Reserve Champion Gelding
2007 Region 8 Champion Gelding AOTH
Multiple Class A Championships
Mondial
US, Canadian and Scottsdale Top Ten Stallion
Sire of Numerous National and Regional winners
One of Bey Shah's most producing son's